by Rossputin | 6:04 am, November 9, 2011
(I'm posting this now, which might seem a bit late to some, because part of the below was submitted to the Denver Post as a letter to the editor. Now that it's clear they're not going to run it, I am running an expanded version here.)
Liberals tend to live in a click-my-heels-together world in which tax hikes and the election of liberals portend a wonderful, candy-filled future, whereas the defeat of such things are a temporary setback on the yellow brick road to the promised land where everyone gets everything for free.
One such bit of wishful thinking was shown by Denver Post reporter Jeremy Mayer a week ago, following the slaughter of Proposition 103, the only state-wide tax increase on any state's ballot in 2011, as well as the demise of almost all other tax hiking measures on Colorado ballots last Tuesday.
His article's title is accurate: "Colorado Election Day results prove a killing field for tax measures."
However, twice in the article, Mayer suggests that political analysts doubt that last week's results imply anything for 2012 elections in Colorado. Once, Mayer names a particular analyst, Katy Atkinson – who, to be fair to Mayer is a former Republican staffer at the Colorado state legislature – and once he said "Colorado political analysts don't think tonight's results have any bearing on how the state will vote for president", while again quoting Atkinson. In short, he found one analyst willing to say what Mayer wanted to hear.
The suggestion that Tuesday's election results will not "have any bearing on how the state will vote for president" is absurd. Not only did Proposition 103 fail, but almost every local mill levy freeze (tax hike) also failed even when marketed to local communities as beneficial to their local schools.
Meanwhile Barack Obama keeps pushing for tax hikes and a federal bailout of states to keep teachers and first responders – members of public sector unions which support Democrat political candidates – from being fired.
Even Democrats are just saying "no thanks" to throwing more money into the black hole of government – and even when the measures are offered "for the children." Beyond Proposition 103's emphatic rejection, turnout showed Republicans more motivated than Democrats to vote, and unaffiliated voters siding substantially with Republicans. The idea that this has no implication for 2012 is simply wishful thinking by Democrats who can't believe how dramatically the public has turned against Barack Obama and his "progressive" bankrupting of the nation.
At some point, won't reporters recognize that subtly hoping that the public always and ever supports bigger, more expensive government, is keeping them from actually committing journalism? Probably not, and any hope by non-leftists of fairness by most media would be just as much a fantasy as Meyer's hope that Colorado's fiercely anti-tax mood will not impact the electoral fortunes of those who must support raising taxes on citizens of our state and our nation.
by Rossputin | 2:10 pm, November 8, 2011
The Herman Cain campaign has put out a press release (text below) noting his most recent accuser, Sharon Bialek's, "troubled history" including being "sued in 1999 over a paternity matter", twice filing for bankruptcy, and having "worked for nine employers over the last seventeen years."
There is good news and bad news here for Cain, but more of the latter.
Yes, his accuser may indeed be less than one percent credible; indeed few people (and not I) have made any claim that she is particularly credible – we don't have much to judge by, though Cain's research on Ms. Bialek released today does not make her look like the ideal witness. And her choice of attorney probably damages her credibility among many, especially conservative, news watchers.
However, no matter how much we find Mr. Cain affable, interesting, even slightly compelling, will Republican voters really want to go for a candidate whose campaign you can already see being one of repeated attacks from the left on his character, even if those attacks are manifestly unfair or unsubstantiated?
As Charles Krauthammer said when he spoke at the Leadership Program of the Rockies Annual Retreat in March, the Republican nominee must be someone who will allow the election to be primarily about "Obama and Obamaism." At the time, I took Krauthammer's remark as an obvious warning away from Sarah Palin, and to a lesser degree Newt Gingrich, though different people could certainly interpret it differently. Krauthammer's words continue to ring true to me, and Cain's troubles, as unfair as they may be, are beginning to push him outside the sumo-like circle which encompasses the fairly wide range of candidate viability.
I understand, and almost share, many people's gut instinct to come to Cain's defense as a good man unfairly smeared by anonymous or not particularly credible attacks of the most vicious sort. And when it comes to what I believe to be true and how I think people probably should consider the situation, that's where I am. But when it comes to the cold light of political reality, as my friend former Congressman Bob Schaffer likes to say, if you're explaining, you're losing.
No matter how much he insists he's getting "back on message" whether the media likes it or not, as long as Herman Cain remains in this race, he will be explaining…and thus losing not just for himself but for Republican electoral aspirations more broadly.
I hate the idea of Herman Cain being forced out of this race. After all, there is nothing that scares the left more than a successful conservative black or Hispanic. But what I've learned most of all from the last few days is that Mr. Cain, or at least his campaign, have been unable to put out a fire – one which the arsonist told them when and where it would be set. Again, separate from the nature or fairness of the accusations, the campaign's response to them has left me believing that the campaign – and by extension the candidate – is not ready for prime time.
Thus, with some sadness and despite – or maybe even reinforced by – today's press release about Cain's named accuser, I continue to believe that Herman Cain's candidacy is and should be over.
——————
Text of Cain campaign press release:
Who is Sharon Bialek?
As Ms. Sharon Bialek has placed herself in the public spotlight through making patently false allegations against Herman Cain, it is only fair to compare her track record alongside Mr. Cain's.
In stark contrast to Mr. Cain's four decades spent climbing the corporate ladder rising to the level of CEO at multiple successful business enterprises, Ms. Bialek has taken a far different path.
The fact is that Ms. Bialek has had a long and troubled history, from the courts to personal finances
– which may help explain why she has come forward 14 years after an alleged incident with Mr. Cain, powered by celebrity attorney and long term Democrat donor Gloria Allred.
In the courts, Ms. Bialek has had a lengthy record in the Cook County Court system over various civil lawsuits. The following cases on file in Cook County are:
·         2000-M1-707461 Defendant against Broadcare Management
·         2000-M1-714398 Defendant in lawsuit against Broadcare Management
·         2000-M1-701522 Defendant in lawsuit against Broadcare Management
·         2005-M1-111072 Defendant in lawsuit against Mr. Mark Beatovic.
·         2007-M1-189176 Defendant in lawsuit against Midland Funding.
·         2009-M1-158826 Defendant in lawsuit against Illinois Lending.
Ms. Bialek was also sued in 1999 over a paternity matter according to ABC 7 Chicago (WLS-TV). Source:  WLS-TV, November 7, 2011
In personal finances, PACER (Federal Court) records show that Ms. Bialek has filed for bankruptcy in the Northern District of Illinois bankruptcy court in 1991 and 2001. The respective case numbers according to the PACER system are 1:01-bk-22664 and 1:91-bk-23273.Ms. Bialek has worked for nine employers over the last seventeen years. Source: WLS-TV, November 7, 2011
Curiously, if Ms. Bialek had intended to take legal action, the statute of limitations would have passed a decade ago. Which brings up the question of why she would make such reprehensible statements now?
The questions should be – who is financing her legal team, have any media agreed to pay for her
story, and has she been offered employment for taking these actions?
For More Information:
J.D. Gordon, Vice President of Communications
Friends of Herman Cain, Inc.
media@hermancain.com
by Rossputin | 8:03 am, November 8, 2011
…and President Obama, and congressional Democrats, and the Associated Press, and MoveOn.org, and…
H/T Airbus
http://www.youtube.com/watch?v=okHGCz6xxiw
by Rossputin | 6:49 am, November 8, 2011
Bob Bowden, the director of the education documentary, The Cartel, is bringing attention to a major school choice battle right here in Colorado – in Douglas County, to be precise.
His organization, Choice Media, has put out a short and informative video on the situation which parents across the state and nation should be paying attention to as teachers' unions show yet again that they care nothing for educational quality and student achievement and everything for lining their own coffers.
You can watch the video and learn a little more about the story here:
http://choicemedia.tv/2011/11/03/douglas-county-voucher-program/
My friend Ben DeGrow, of the Independence Institute, has also put together a video of some family testimonials which can (and should) be seen here:
http://www.ediswatching.org/2011/07/new-i-i-video-highlights-douglas-county-vouchers-for-nate-oakley-499-other-kids/
I reached out to John Carson, president of the Douglas County School Board for comment, and here's what he said:
Ross, all three of the candidates supporting the Choice Scholarship Program (CSP) won election last week.  Their opponents all ran in strong opposition to the program and were rejected by the voters.  This was a clear mandate to continue to expand school choice in Douglas County.  Our Board remains 7-0 in support of the program.  We are currently continuing with the appeal process in the CSP court decision and expect the Colorado Court of Appeals to hear the case this winter.
by Rossputin | 3:18 pm, November 7, 2011
I disagree with Jim Antle's take that today's accusations against Herman Cain have not changed the "state of play" very much nor are they likely, thinks Jim, to derail Cain's candidacy.
Herman Cain is toast.
There is now a fourth accuser against Herman Cain, and this one has a name.
One Sharon Bialek tells a sordid story about Cain in which Cain's behavior was beyond inappropriate.
Again, I have no idea whether Bialek's story is true, but at this point there is simply too much smoke to not assume a fire, even for those of us who like Mr. Cain and could imagine supporting him for the presidency.
If I were Mr. Cain, I would strongly consider giving this up and making sure to save my marriage.
Thinking about this in the most Machiavellian way, this news is a benefit to the other candidates, but particularly to Newt Gingrich and Mitt Romney, a fact which is currently being represented in changes in betting odds at Intrade.com. (Gingrich is up from about 6 percent to 8 percent while Cain is down from about 6 percent to about four percent, with Romney up slightly to 70 percent.)
Get out the butter; unfortunately, Herman Cain's candidacy is toast.
by Rossputin | 7:49 am, November 7, 2011
In a solid piece of journalism, RedState.com is reporting that organizers of the Democratic presidential convention which is to be held in Charlotte, NC, are refusing to offer any contracts to non-unionized shops and further are causing the temporary (we hope) layoff of non-unionized hotel employees (such as at the Ritz-Carlton) during the convention.
This could be the first convention in history (or at least the first I know of) which could be responsible for increasing local unemployment because of the Democrats' unbending fealty to unions.
This could and should be a PR disaster for Democrats, not least because they are hoping that they might have a chance for Barack Obama to win North Carolina again, as he did in 2012. My bet is that Obama loses the state by at least 5 points, with the convention now becoming a political liability rather than benefit to them.
The public is coming to realize that labor unions – especially public sector unions – are parasites on the American economy. Even though the unions involved here are private sector, this will be one of the best opportunities in recent memory to show the destructive impact of their 21st-century existence for which there is no legitimate justification. Unions cause unemployment in several ways, but few will be as visible as this.
Nice work by "LaborUnionReport" over at RedState.com.
by Rossputin | 6:24 am, November 5, 2011
The very nice people at my bank (Advantage Bank in Boulder) know that I like to collect interesting or unusual coins and bills, even if they're really not worth more than their face value. I stopped in to the branch yesterday just to see if they had anything, and Sharon had this for me. It's not in great shape, as you can tell from the image, but I hope I look as good when I'm as old.
For the monetary history buffs out there, the signature on the lower left, the Treasurer of the United States, is one W. A. Julian, and on the right, the Secretary of the Treasury, is Fred M. Vinson.
I have to say I was confused by Vinson's signature being on this note since all the information I can find says that he was named Treasury Secretary by Truman in 1945. Apparently this series was reissued for quite some time after 1935, just changing the letter. In fact, this page shows the 1935 series being reissued into the mid-1960s (the last series being 1935H). The 1935B is relatively rare because Vinson only held the Treasury post for 11 months – after which he became the 13th Chief Justice of the United States. But it's still not worth more than $1 in this condition. (A $1 note of this series in essentially perfect condition is probably worth $10.)
By the way, William Alexander Julian, the Treasurer of the United States at the time is the last man ever to hold that job. Harry Truman replaced Julian with a woman, and every president since has appointed a woman to the job, with six of the last ten being Hispanic women. Political correctness right on the face of our money…
Isn't it amazing what you can be guided into learning just by stopping by the bank?
(Click on image for larger version.)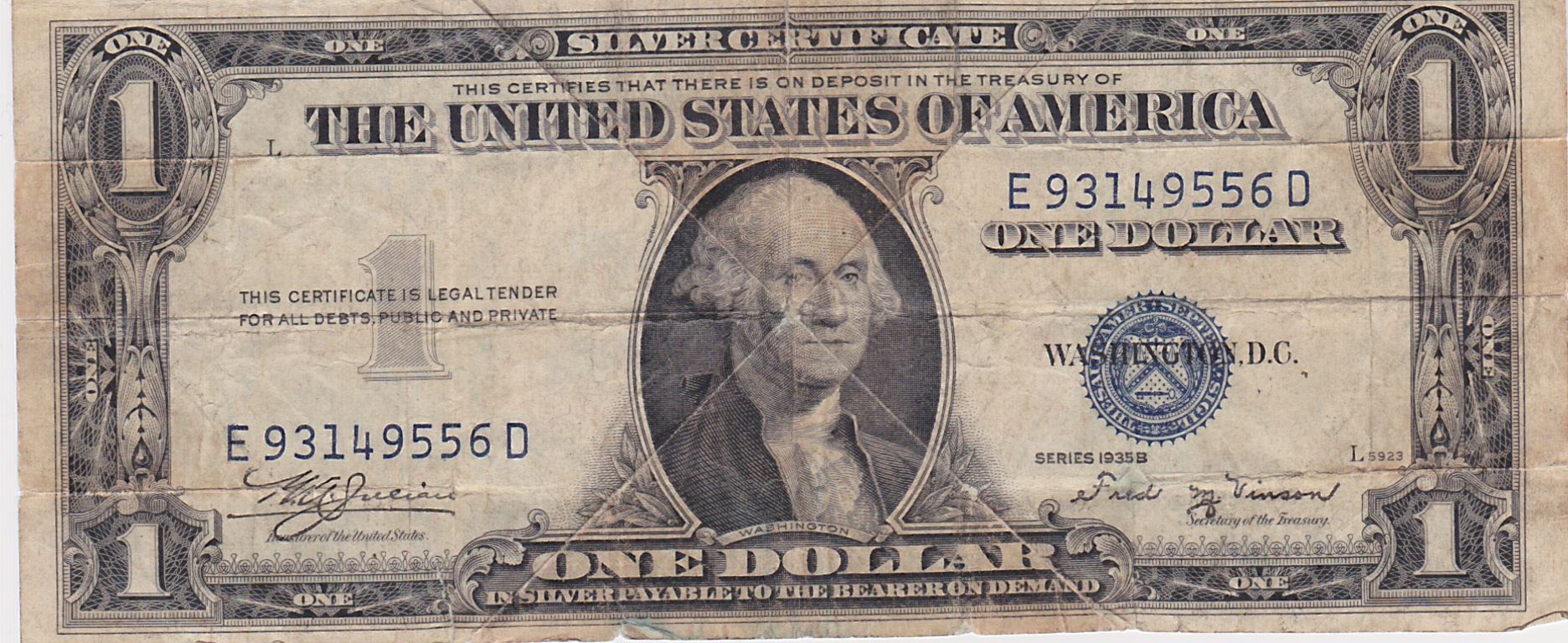 by Rossputin | 5:18 pm, November 4, 2011
Tomorrow I'll be guest hosting for Joe Pags on Denver's Newsradio 850 KOA from 1 PM to 4 PM Mountain Time.
We'll talk about Occupy Wall Street, and the so-called "99 percent" that they're making so much noise about, and about a more important group: The 53 percent – of working Americans who pay income tax.
At 2 PM my guest will be Pat Michaels, one of the two most entertaining guys in the "climate change" debate. His book, Climate Coup, is a wealth of information about the lies and motivation behind the global warming alarmists.
And at 3 PM, we'll be joined by capitalist extraordinaire, Peter Schiff, who braved the Occupy Wall Street aromas to meet with people in Zuccotti Park and speak up for the one percent, while listening to the complaints and arguments of the so-called 99 percent:
http://www.youtube.com/watch?v=UGL-Ex1CD1c
Please listen in if you can, either over the airwaves or over the web at http://850koa.com. And feel free to join the conversation at (303) 713-8585.
by Rossputin | 5:05 am, November 4, 2011
On Wednesday, for the first time since Herman Cain's presidential candidacy began gaining traction in September, Newt Gingrich's betting odds of earning the Republican nomination to run for the presidency have surpassed Cain's.
Gingrich is trading around 7 percent while Cain hovers near 5 percent. A week ago, before the Cain sexual harassment charges surfaced, the numbers were roughly reversed, with Cain close to 8 percent and Gingrich around 3.5 percent. (For those unfamiliar with Intrade.com, the odds are not set by bookies; instead the site works as an exchange with the prices based on where market participants are willing to buy and sell.)
During this week of turmoil, Mitt Romney's betting odds have barely changed, going from about 69 percent to 70 percent, while Rick Perry's odds have actually dropped by almost two percent, from about 12.5 percent to 10.5 percent.
In short, while conventional wisdom is what Romney is the main beneficiary of the chaos surrounding Herman Cain, betting odds tell a different story: the big winner, at least for one week, is Newt Gingrich.
Please read the entirety of my article for the American Spectator here:
http://spectator.org/archives/2011/11/04/gingrich-rises-up-to-glass-cei
by Rossputin | 5:50 am, November 3, 2011
Please join me at the Douglas County Events Center at 7 PM on Monday, November 7th for what promises to be a fun, informative, and generally excellent event as News/Talk 710 KNUS presents 365 Days and Counting, with Hugh Hewitt and Dennis Prager. We'll discuss and perhaps prematurely celebrate one year until the election which I expect will turn Barack Obama into a lame duck president.
Hugh and Dennis will give their takes on the candidates, campaign strategy, and on how we right here in Colorado can work to ensure that our current president follows Jimmy Carter's lead and leaves after one term; after all, so much else that he's done has mirrored Carter, from economic incompetence to preferring Islamic terrorists to our Israeli allies.
Click HERE or on the image below for tickets, or buy them at King Soopers locations, or charge by phone by calling 1-866-464-2626.
I hope to see you there!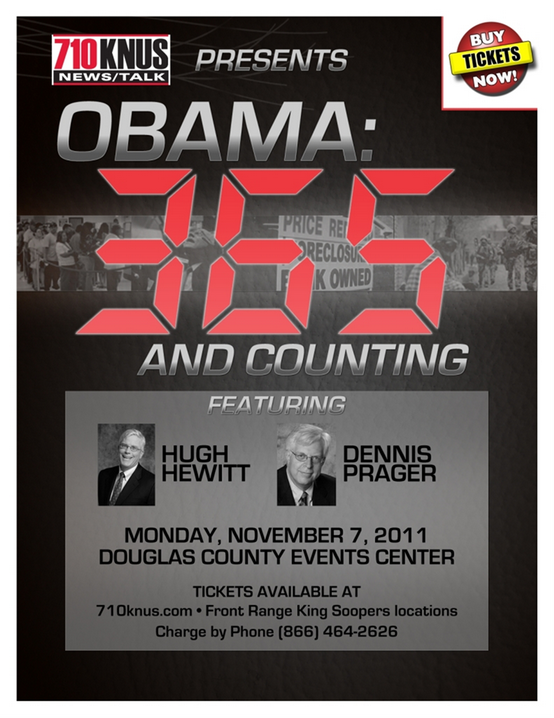 keep looking »