by Eileen | 3:48 pm, February 7, 2013
Might the Colorado Democratic Party be about to sell out its voters to credit card companies and other ghastly for-profit entities?  Officially, they won't say.  When ProPublica contacted state chair Beverly Ryken, she, along with 11 other state party leaders, declined to comment as to whether or not her party would cooperate with the DNC [...]
by Eileen | 9:45 am, January 11, 2013
The last time I saw Karl Rove, I was more interested in getting the waiter's attention.  Hacks will always make the rounds and make their statements but having to endure after-dinner coffee with no cream is the desideratum of civilization.  Up on stage, Rove was outlining his process for winning in 2012.  This was during [...]
by elpresidente | 11:01 pm, August 31, 2008
I hate the wind.
Ok, not really hate so much as dislike intensely, especially when it forces you to drive 10 miles under the speed limit through a rather boring stretch of South Dakota.
Yes–I drove (won't be a green convention for this blogger!).
However, lest you think I shirked my blogger duties, here is a sample of what I saw along the way, which included a stop in the Black Hills of South Dakota and a visit to the Crazy Horse Monument (which likely won't be finished in our lifetimes, but is entirely financed through–shocker–private enterprise) and, of course, Mount Rushmore:

BFE, Wyoming.

Custer, SD

Crazy Horse Monument

"Authentic," but waaay overpriced.

A preview of how the mountain will eventually look, sometime around 2500. Just kidding (not really).

Made in Denver.

Just in time for the evening lighting ceremony.

Come on, Vogue!

All lit up.

When I was last here in 1994, there was a much smaller, old-school National Monument building and very little improvements (since the 1960s). A larger parking lot and entrance, enhanced museum, new amphitheater, and this flag-lined walkway all augmented the decidedly patriotic experience.
I'll have video from the lighting ceremony tomorrow.
First, we watched a Mount Rushmore "Cliff Notes" video on the four Presidents represented, and then members of the audience who were veterans of our armed forces (or a representative) were invited to the stage for the nightly flag lowering, carried out with much dignity.  Our ranger narrated the Star-Spangled Banner's first 3 verses, and sang the final verse quite beautifully.  It was clear from the tone of her voice that she was truly overcome with emotion, and this feeling permeated the audience.
On a cool night on Labor Day weekend following the week of hell (temperatures and my poor feet) that was the DNC, it was an outstanding opportunity to reflect on the greatness of our country, the eloquence of our Founding Fathers, and the immense gratitude we should have for our rights and for the ability to exercise our freedoms in a manner unmatched almost anywhere else on this rock.  Sandwiched as it was between the DNC and RNC, my visit to Mount Rushmore reinforced the necessity of an educated and engaged citizenry that is politically active and civically oriented.
But that's not why you're here, is it? On to the convention schwag!

RNC schwag bag–"refresh, recycle, re-use."  Surprisingly, there wasn't a Coke product inside.

The logo may be much-maligned, but the message is important–water is essential for convention survival!

Cool! Mac & Cheese  . . . hey–wait a minute! We are Republicans.  Where is my RNC filet mignon?

Can the Republicans weather the storm that is Hurricane Gustav?
Fellow Coloradan Brad Jones from FacetheState.com (bookmark it) arrived a little earlier in the day, and managed to snap a few photos of those protesters arrested Sunday and the arrival of the Colorado delegates. Check back in at FTS for updates throughout the RNC.
Meanwhile, Gateway Pundit details the moonbat protesters of the "RNC Welcoming Committee" raided over the weekend and arrested for possessing devices meant to "disable" delegate buses.
Same crap (literally), different city/convention.
Oh, it's gonna be a fun week. I'll have updates tomorrow, including more details on the reduced and mainly "procedural" first day of the RNC.
by Rossputin | 9:50 am, August 29, 2008
For those of you who are interested and have the time, please tune in your radio or your web browser to listen as I guest host the Luke Shiltz Program on Newstalk 1310 KFKA in Greeley, Colorado this afternoon from 4 PM to 6 PM Mountain Time.
I'll discuss my experiences during the past week, including a few minutes in the Pepsi Center, walking along with various protest marches and interviewing radical lefists, attendance at a couple of big parties, watching Obama speak from high-up seats at Invesco Field, and, of course, the great work done by the Peoples Press Collective bringing you coverage of events surrounding the DNC with more depth (and humor) than any other news source.
by Rossputin | 1:48 am, August 29, 2008
On Thursday, members of the Peoples Press Collective along with Hot Air's Jason Mattera caught up with a fairly large march of illegal aliens and their supporters marching to Denver's Lincoln Park.
The park was led by Indian- or Aztec-style dancers wearing feathered costumes, followed by hundreds of people carrying signs in English and Spanish such as "We Are America" ("Sonos America" on the back of the sign), "Legalizacion si, Deportacion no", "Nosotros hacemos el cambio" (meaning "we make the change", showing a picture of a woman who looked very much like Nancy Pelosi, though I can't believe it actually was) and wearing t-shirts such as "Legalize L.A."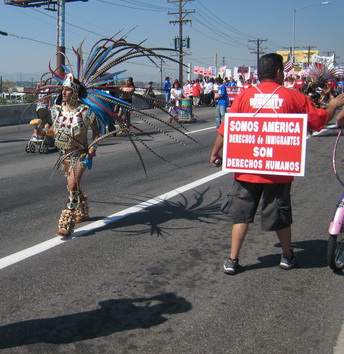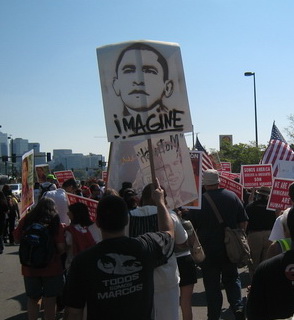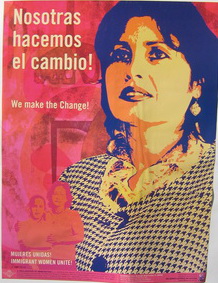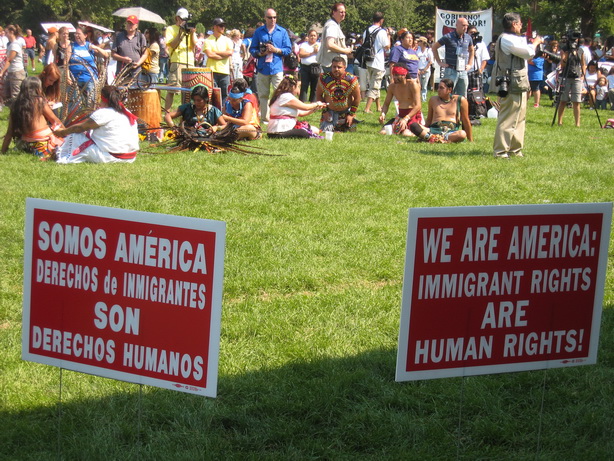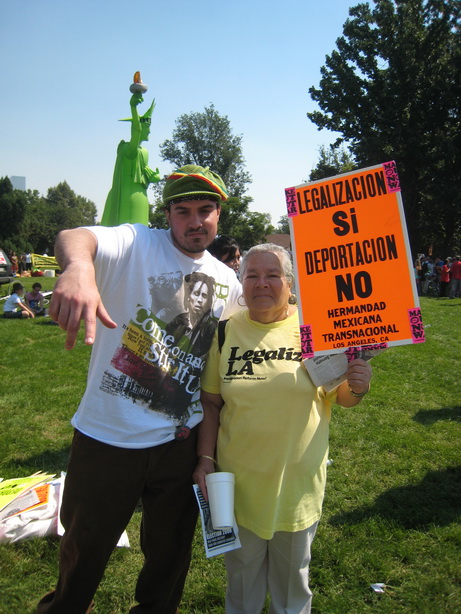 Jason is with the cause…or might be if he read Spanish.
There was a Hispanic-looking man wearing a German SS uniform carrying a sign saying "SStop the RaidSS" (with the S's in the well-known font of the SS insignia) who posed for a photograph in Hitler-style salute.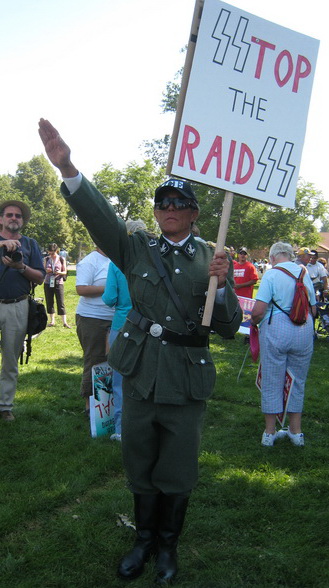 When the speakers were about to come on stage, one of the female emcees asked for the crowd's attention and requested a moment of silence "for the thousands who had died in the desert". Both my Peoples Press Collective colleague and I were somewhat surprised to hear that sort of support for our troops in that crowd, and our surprise was proven correct when she continued by saying "And the five hundred who were just arrested in Mississippi that nobody wants to talk about." What a let-down…just when I thought there was something redeeming about the day's message.
In addition to the many immigration marchers (quite a few of whom didn't speak English, unsurprisingly), there were dozens of people handing out fliers for events supporting marijuana rights parties (not sure if that means people having rights to use it or it having rights in the way that PETA believes animals have rights.)
by Rossputin | 12:26 pm, August 28, 2008
Those of you who read these pages will have seen the first few paragraphs before, but please read my latest article at Human Events about the communists, anarchists, environmental radicals, and just plain-old freaks surrounding the Democratic National Convention:
"Ringling Bros. Presents: Outside the DNC"
http://www.humanevents.com/article.php?id=28259
by Rossputin | 12:52 am, August 28, 2008
Matt Welch of Reason TV interviewed several members of the Peoples Press Collective on Tuesday in Denver's Civic Center Park.
http://www.youtube.com/watch?v=QDT8u3z2Sn4
by David K. Williams, Jr. | 9:01 pm, August 27, 2008
UPDATE: HERE are more photos of the protesters rushing the Pepsi Center.
The cops were ready for them.


It looked like things would get exciting there for a minute, but fortunately for Denver there were no 21st Century Bill Ayers wannabes exploding bombs and and torching government offices.
* * * * *
Here are a few images from Wednesday evening's March Against the Machine. For the first time there were more protesters than police, however the police were very well armed and ready for anything.
This was a decent protest. It was about the size of the Pro-Life rally yesterday that didn't get any press.
This was the largest protest yet this week in Denver and ended peacefully even after around 1,000 of the antiwar youths rushed down to the Pepsi Center after the official protest ended.


UPDATE: Army Capt. Brian Faunce was 23 when he died in Iraq in an accident. You must have a college degree before you become captain. Army Capt. Brian Faunce was 23.
Hat Tip Just a Grunt
A couple of dozen self-proclaimed veterans marched down the streets in Denver today at the DNC Convention.

They said they were Iraq War veterans– Who knows?
** The People's Press has several updates from today's Denver events.
by David K. Williams, Jr. | 4:37 pm, August 27, 2008
Vets For Freedom Chairman Pete Hegseth and Vice-Chairman/Founder Dave Bellavia hijacked the anti-"Bush Legacy" bus this morning at the Pepsi Center in Denver, Colorado.
The two patriots from the bipartisan Vets For Freedom just got back from a recent visit to Iraq. They attended the DNC Convention this week to talk with Democratic politicians about the great success of the Bush Surge in Iraq.
Obviously, this was not an easy week for the two VFF Founders.
They were not pleased to hear that the "Bush Legacy" bus is traveling the US promoting anti-Bush propaganda and that part of that propaganda includes showing US soldier snuff films taken by insurgents in Iraq!
Outrageous! It's one thing being antiwar or anti-Bush…
It's another thing to show enemy propaganda of attacks on US soldiers!
Here Pete Hegseth confronts one of the Bush Legacy staffers on their horrible insurgent propaganda:

** It is telling that according to Dennis Prager, who is at the DNC Convention, no speaker has yet mentioned Iraq.
Hat Tip Bruce Kesler
Previously:
Vets For Freedom Hijacks the Anti-"Bush Legacy" Bus!
by David K. Williams, Jr. | 3:31 pm, August 27, 2008
John McCain recently released a video "Debra" featuring Debra Bartoshevich, a lifelong Democrat and former Clinton delegate, explaining why she supports John McCain.

Tonight in St. Louis, Democratic McCain supporters are meeting in St. Louis, Missouri to phone bank on behalf of the McCain Campaign:
ST. LOUIS, MO — U.S. Senator John McCain's presidential campaign today announced that this evening, August 27th, from 6:30-8 p.m. Democrats for McCain are skipping the DNCC coverage to meet at the St. Louis Victory Office to phone bank on behalf of John McCain.

This phone banking falls on the heels of the campaign's release of the new television ad, "Debra." The ad features Debra Bartoshevich, a lifelong Democrat and former Clinton delegate, explaining why she supports John McCain. Because John McCain has the experience and judgment we need at these challenging times, millions of Democrats from across the country are supporting him. The ad will air in key states.
Wednesday, August 27, 2008

ST. LOUIS, MISSOURI

WHO: Democrats for McCain

WHAT: Phone banking for John McCain

WHEN: Wednesday, August 27, 2008, 6:30-8 p.m.

WHERE: Victory Office
921 Fee Fee Rd
Maryland Heights, MO 63043
keep looking »