by Rossputin | 12:19 am, April 16, 2009 | 8 Comments
[A new poll question: Do you believe the Tea Parties will lead to any sustained political activity by the day's participants, or was it basically a one-time thing for the vast majority of them?]
It was a day to inspire a little optimism for those of us who believe in liberty and expect better from both our state and national governments. Denver's Tax Day Tea Party was, in my opinion, a great success despite not having a great sound system in place.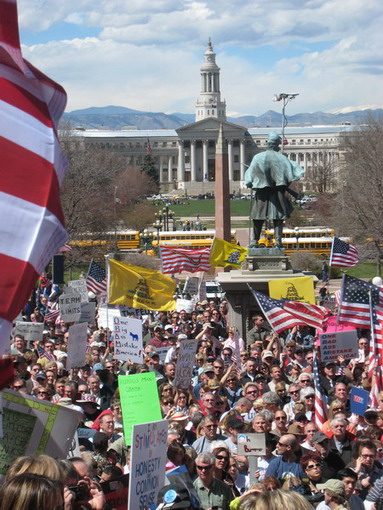 The crowd, from young to old, was enthusiastic and generally in an excellent mood.
And the Gadsden Flag (yellow, rattlesnake, Don't Tread On Me, etc) was on wide display…doing good for the heart of a libertarian.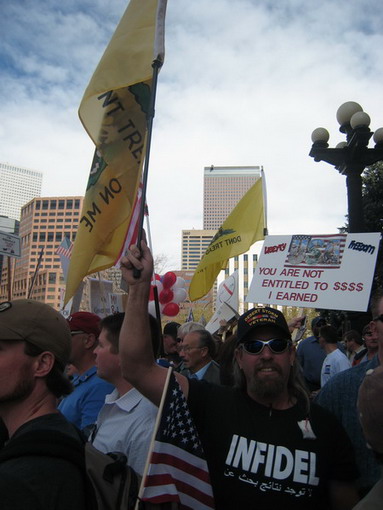 Although I heard of two people being removed from the event, I never personally saw disruption, nor jeers nor signs from leftist disruptors.
There were hundreds of flags and signs being held by the (my guess) 3,000 people there. Others have estimated as many as 5,000 people. Unlike left-wing highly organized rallies with professionally made signs, you could tell these banners were efforts of love (for our nation and liberty) and frustration (with governments which are destroying both.)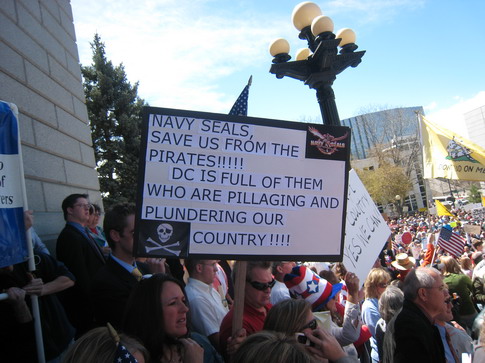 Although a lot had been going on before the noon start time, the proceedings officially began with the Pledge of Allegiance. My thought was "I'm sure MoveOn.org rallies are JUST like this…not."
Speakers talked of being "sons and daughters of revolutionaries", of "taking back our country", and repeatedly of the massive debt that the federal government is saddling future generations with.
Jon Caldara led the crowd in a round of cries of "No you can't", as opposed to Obama's empty "Yes we can" mantra. "Gunny" Bob Newman talked about the time of our founding, including the fact that his great-great-great-great-great-great grandfather (maybe I missed one "great") was the guy who signaled Paul Revere to start his famous ride. Politicians and candidates spoke, but mostly avoided partisan politics or mention of political parties.
About 10 members of the General Assembly (and a couple of state Senators) came out to the balcony above the crowd, bringing great cheers as well as a minute-long chant of "Where is Ritter?" (For those of you not in Colorado, Bill Ritter is our truly horrendous governor who has every reason to be a one-termer and actually left Denver today, presumably to escape questions about the Tea Party.)
The Tea Party, rather than being about partisan politics, was about people finally getting angry enough with government to get involved. The message was to stay involved, that the winners in politics tend to be the ones to make an effort.
It's unusual for conservatives and libertarians to protest. That's generally something liberals do. Particularly libertarians…we just don't normally think of telling others what to do. Again, that's something liberals do. But as I said, the energy in the crowd was consistent and uplifting.
I realize that my liberal readers (not that I have very many of those) will simply not understand what I'm talking about. But that's OK. Just as they think the world is full primarily of people like them and that we lovers of liberty and respecters of the constitution are a fringe group, I look forward to the day when we can, at least for a few minutes, think the same of them. That time is coming. And the further both the Colorado and the federal governments continue down their current paths, the sooner that time will arrive.
Comments
Praise for PPC From Our Lefty "Fan"
"Zany-ass bombast-entertainment...Hackneyed weirdo communist pseudo-nostalgia" --Alan Franklin, ProgressNow
Featured Posts